Exhaust air heat recovery and solar panels improve energy efficiency in a block building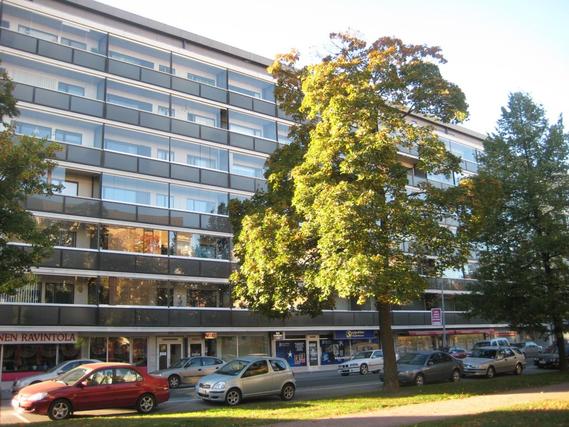 A Pori joint-stock property company, As Oy Porin Eteläkatu 11, carried out a heating renovation job at the turn of 2015–2016 with energy economy in mind. In the job, the block building was equipped with exhaust air heat recovery and a heat pump.
The heating system came to be a true super hybrid, as the heat recovery heat pump and district heating were installed parallel to solar heating. A total of 49 square meters of solar thermal collectors were installed on the roof of the building to produce heat and domestic hot water.
Gebwell's heat pumps, accumulators and district heating substation were installed in the heating distribution room

The block building, built in 1962, has 79 flats in seven floors with a total living area of 4,992 square meters. The Gemini 64 and T232 heat pumps with a total heating power in the heat recovery application is 110kW were installed in the heating distribution room. The heat pumps use the heat recovered from exhaust air for heating the building and the domestic hot water.
The system also include a 1,000-litre G-Energy accumulator for heating and two 1,000-litre accumulators for domestic hot water. The great accumulator capacity enables the efficient storage of solar energy when it is available. The heat pumps are equipped with Modbus communication modules to relay the data from the heating equipment to the G-Control automation system.  Thanks to the energy measurement, the system can be fine-tuned for optimal operation, and savings can be verified based on real energy consumption and production data.
Remote control over a web connection
In connection with the heating renovation, the district heating substation was also overhauled and a hybrid-enabled 3-circuit G-Power
district heating substation was installed. The hybrid system is controlled by G-Control automation, which also enables remote monitoring and control of the system over a web connection.
The exhaust air heat recovery system was started on 9 November 2015.
Reijo Hernesniemi, account manager at Are Oy, the contractor at the site, says the project implementation with Gebwell was so smooth that another renovation has also been implemented in another location in Pori.
System's energy output 9.11.2015–26.10.2016
Heating energy produced
381 MWh
Electricity consumed
104 MWh
System COP
3,7
Energy produced by solar panels a
35 MWh
As Oy Porin Eteläpuisto 11, consumption figures 2014–2016
Average consumption, district heating
830 MWh/a
Average consumption, electricity
35 MWh/a
District heating consumption  2015
539 MWH/a
District heating consumption Jan-Aug 2016
188 MWh
Electricity consumption Jan-Aug 2016
125 MWh