Smart heat pumps an essential part of the zero-carbon city
Innovative solutions are needed when constructing energy-plus buildings in densely built up areas. Medium-deep ground source heat wells are developed specifically for urban plots with limited space for a high number of heat wells. Increasingly deep heat wells are placing new requirements on heat pumps. Gebwell and its partners are looking for a solution to this challenge in the HYBGEO project, which will involve the construction of a pilot residential building As Oy Geowatti in Kalasatama, Helsinki. 
The hybrid system designed for the residential building in Kalasatama will test the drilling technology of medium-deep heat wells with a depth of 600 to 1,000 metres, new heat pump and building services technology, and monitoring and optimisation of the overall system. In residential buildings located in densely built up areas, deeper heat wells and specialised technology are needed to obtain the necessary energy from a limited area of land. Gebwell provides solutions for the hybrid system.
"A single deep well provides more energy than several shallower ones. When heat is recovered from a medium-deep ground source heat well, the temperature of the brine is higher than in standard-depth wells. Our goal is to develop a heat pump solution that can reliably withstand higher temperatures," says Jarkko Järvinen, Product Manager at Gebwell.
The Kalasatama pilot project aims to help decision-makers appreciate energy-plus buildings as a future solution in slowing down climate change. The HYBGEO project tests the technology in a newly constructed building, but the solution also makes it easier to improve the energy efficiency of existing building stock by allowing ground source heat wells to be bored on smaller plots in more densely built up areas.
Aiming for a one-stop service 
In the HYBGEO project, Gebwell is responsible for the development of heat pump technology. Tom Allen Senera, Basso Building Systems, Gebwell, Muovitech and Rototec are also involved in the project. The project is coordinated by VTT Technical Research Centre of Finland. The Geological Survey of Finland (GTK) and Centria UAS are involved as other research partners. A part of the project is funded by Business Finland.
"One of our goals is to get the technologies of different suppliers to work together. In the future, instead of going over each part of a system separately, we could offer an all-in-one solution with a single order," says Järvinen.
Solutions identified to be effective in the project are refined in order to be replicated by the construction sector. Versatile use of data is at the core of the solution.
"Data allows us to optimise the operation of heat pumps. The data can be from the equipment itself or from external sources. For example, we explore how weather forecasts can be used to optimise heating, or how maintenance needs can be anticipated with the help of data. Our heat pumps are designed to operate efficiently under all conditions. Smart heating is an accurate description of what we're trying to achieve here."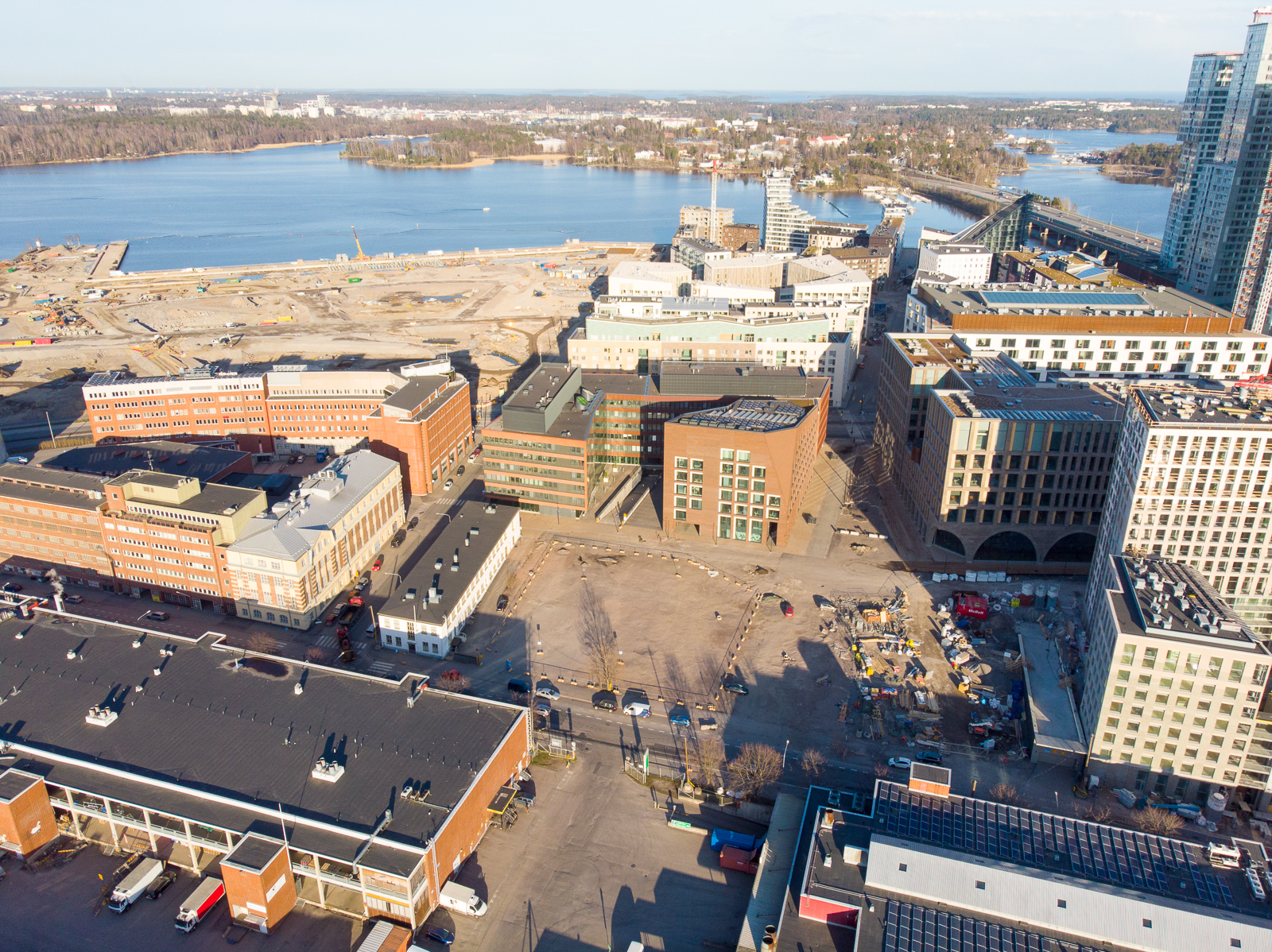 The test building in Kalasatama is closely surrounded on all sides by other buildings. Photo: Basso Building Systems Oy
Further information:
Jarkko Järvinen, Product Manager, Gebwell Ltd., +358 40 197 0004, jarkko.jarvinen@gebwell.fi
Gebwell Ltd is an expanding international company with its roots and headquarters in Leppävirta, Finland. We focus on developing, manufacturing and selling environmentally friendly heating and cooling equipment. We are the market leader in district heating and early fire suppression products in Finland, and we also hold a very strong market position in heat pump products. Our products and business operations make extensive use of the latest available technologies.