Pure savings with ground source heating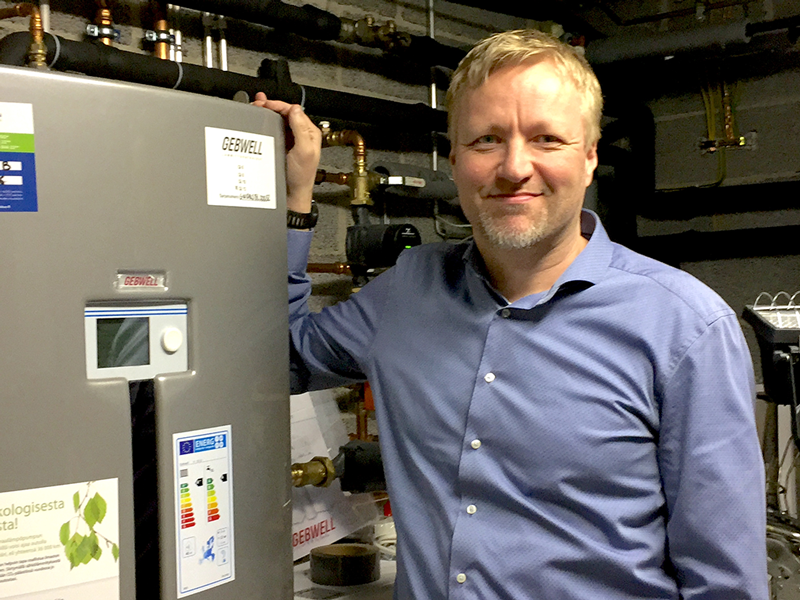 Tero Karhula's wooden single-family house is located in Lahela, Tuusula. The 2-storey house was completed in 1997, and it has over 360 square metres of space to be heated. The house has a water-circulating heating system with radiators and floor heating.
Ground source heating for an oil-hungry house
Tero Karhula's home used to have oil heating. He says that it consumed approximately 4,000 litres of heating oil, even though only one third of the ground floor was in use.
"I don't even dare to think about how much oil the house would've consumed if the whole ground floor had been heated", Karhula reflects.
Now that the ground floor of Karhula's home has been renovated, more than 300 square metres of space must be heated on two floors. The savings attributed to the choice of a heating system are considerable.
"The decision to invest in ground source heating system was done mostly financial aspects in mind", Tero Karhula says, explaining the choice of a heating system.
"The environmental friendliness of the system was one factor in the background in the decision making, but mostly the decision was about money", he continues.
Karhula requested quotations for ground source heating solutions from a few suppliers before turning to Senera Oy, a retailer of Gebwell's ground source heating solutions.
"The seller had the task well in hand, and he convinced me of the high Finnish quality of the heating systems he represented", Karhula says.
An excellent result despite challenges
Karhula says that the heat pump project was completed on a relatively fast schedule. It took one day to drill the well, a few days to install the equipment and pipework, and one more day to add finishing touches.
"There were some challenges with the commissioning, and sometimes the pump has been in emergency operation. But overall, Gebwell has provided excellent service. We've had plenty of heat, despite the small hiccups at the start of the project", Karhula says.
"I calculated that we gain close to 200 euros in savings, at least during the winter months. That's an estimated couple of thousands of cash in hand per year", Tero Karhula calculates.
"With oil heating, I had to buy more oil every other month during the winter months when heating was on", Karhula recalls.
What were the things that worked especially well in the turnkey delivery in Tero Karhula's opinion?
"Senera's sales work was excellent, and Gebwell's equipment has proven to be everything you could ask for. In the end, the whole delivery process went great", Karhula says approvingly.
"All in all, I give Gebwell an A for excellent work", Tero Karhula concludes.
Karhula would recommend a Gebwell to any owner of a single-family house.
"I've already told a friend who was thinking about heating that this is excellent equipment", Tero Karhula says.